Next:
Links
Up:
NDES 2007 Website
Previous:
Live-Demo Session sponsored by
Subsections
---
Shikoku University Community Plaza, Tokushima, Japan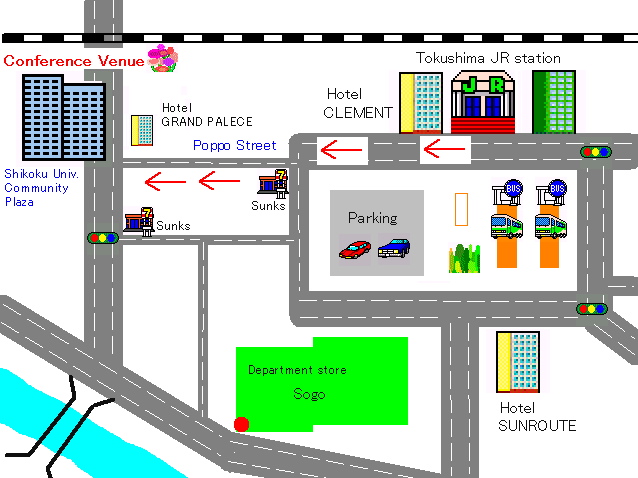 Map around the venue.

In July, it is very humid in Tokushima, Japan!! We recommend casual clothing.
You do not need to wear a tie for sessions.
Since session rooms have air-conditioners, preparing extra clothes is better.
In the excursion, we will visit the location set of a Japanese movie, a Shinto shrine and an observation deck over big whirlpools appeared in the Naruto channel. Most of the excursion will take place outdoors. We also recommend casual clothing for short walks.
The banquet will be held in Japanese style. You are welcome to wear a Japanese YUKATA! It is an informal cotton kimono (cloth) for summer season. A changing room is available next to the banquet room.
Please check http://chaos.keiei.shikoku-u.ac.jp/NDES-Event/
---




Next: Links Up: NDES 2007 Website Previous: Live-Demo Session sponsored by Contact address: ndes07 @ is.tokushima-u.ac.jp